Robert C. Cotes, Esq.
Partner Bagula, Riviere, Coates and Associates, LLP
About Robert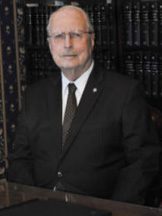 As an attorney, Robert Coates' practice spanned from criminal up to and including murder, civil cases involving both State and Federal Courts, and environmental and mining, injury and mental health law. His present firm feaures lawyers, civil litigators, and out-of-court transactional attorneys: an experienced and knowledgeable team.
Judge Robert C. Coates knows his way around the legal world; around the worlds of community and public life; around the worlds of service. He has served as a Rotary Club President, and as Politics President or chair of a dozen legal and community organizations including the County Public Law Library. He currently chairs the Homeless Women Task Force and Rotary's Project, Understanding Climate Change.
He also serves as an "Advisor" to the Girl's Think Tank and the United Way Commission to End Chronic Homelessness by 2015, and he is active in the Lawyer's Club, the Consumer Attorneys of San Diego, and the California and San Diego County Judges Associations. "Part of being understood, is understanding your audience. That is why trial and jury selection are our focus, with Judge Robert C. Coates as a litigation consultant."
To harness Judge Robert C. Coates' talents and experience to help address your opportunities or to resolve your legal or business challenges, you may contact him at:
Law Office: (619) 272-4235
Website: www.robertccoates.com
E-mail: RobertcCoates@gmail.com
Professional Associations
"Half the time, 90% of this game is mental."
-Yogi Berra